Jurassic World: Dominion Dominates Fandom Wikis - The Loop
Play Sound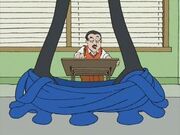 Walter Elias "Walt" Disney (December 5, 1901 – December 15, 1966) was an American film producer, director, screenwriter, voice actor, animator, entrepreneur, entertainer, international icon, and philanthropist. Disney is famous for his influence in the field of entertainment during the 20th century. As the co-founder with his brother Roy O. Disney of Walt Disney Productions, Disney became one of the best-known motion picture producers in the world. The corporation he co-founded, now known as The Walt Disney Company, today has annual revenues of approximately U.S. $35 billion. He created many characters such as Oswald the Lucky Rabbit and Mickey Mouse.
Walt used racial jokes in many of his cartoons much like Family Guy, and was very anti-union which he attributed to communism which most American businessmen attributed to Jews through the mid-20th century. However, Walt was not known personally for hatred towards any particular racial group.[1]
He appeared in "A Picture's Worth a Thousand Bucks" getting enjoyment drawing Minnie Mouse nude, as an example by Peter Griffin to his son Chris of people doing undesirable things to be a success.
He also appeared in the first Stewie Griffin: The Untold Story segment "Stewie B. Goode". Scientists awaken him from cryogenic freezing. Disney first asks if there are still Jews. He insists on being re-frozen when he finds out there are.
In "Movin' Out (Brian's Song)", Brian Griffin reveals that he tries to avoid anything produced by The Walt Disney Company because of Walt's anti-Semitism. He advises others to do the same. However, in "It Takes a Village Idiot, and I Married One", Brian admits to Lois that he appreciates the Disney Company connecting well with its audience through its films, similar how Lois connects with the citizens as the new mayor.
Disney's anti-Semitism is also present when Mort Goldman is beaten up in the Disney Universe in "Road to the Multiverse".
Walt's anti-semitism is what inspires Goofy to be one of the conspirators in the terrorist attacks on the World Trade Center on September 11, 2001. In "Dial Meg for Murder", Goofy is sentenced to the pit of fire for doing so.
Lois takes Peter to Auschwitz in "Hot Pocket-Dial", telling him that Disney had supported it.
He is voiced by Seth MacFarlane.