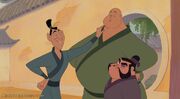 Yao is the shortest of the trio and the self-appointed leader of the group. He wears a red uniform and also has one bruised black eye as well as a mustache and thick sideburns. He has a hot temper, which can be cooled by Chien Po. Despite his strength, he seems to be somewhat clumsy. He initially dislikes Mulan, in part due to a perceived insult (which actually came from Mushu), but later becomes her friend.
During training, Yao talks back to Li Shang, and as a result is picked out as the first to try to retrieve the arrow, deliberately humiliated in front of the other recruits, making him the most aggressive of the bunch. This aspect is furthered by the fact that Yao is constantly seen fighting with others, and his temper is usually the cause of it. Even so, his great strength proves to be beyond impressive, leading to him coming out of his constant scuffles victorious.
In the second film, he wears purple and falls in love with Princess Mei. He is able to impress the princess using his talent for fighting.