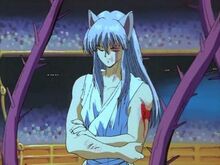 oko Kurama(妖狐蔵馬, lit. Yōko Kurama; in the English dub, Kurama the Yoko), also known as Shuichi Minamino(南野秀一, Minamino Shūichi translated as Southern Fieldand Excellence First, respectively), is a main protagonist in the anime/manga series of YuYu Hakusho. The word Yoko, despite being portrayed as a name in the dub, actually literally translates to "demon fox" in Japanese.
He is voiced by Megumi Ogata (Shūichi) and Shigeru Nakahara (Yoko) in the original Japanese and John Burgmeier in the FUNimation English dub, Candice Moore also voiced Kurama in the Animax Asia also in English dub. He is called Dennis in the Filipino dub of the anime.  He is voiced by David Hayter in Yu Yu Hakusho: The Movie and by Hideo Seaver in Yu Yu Hakusho the Movie: Poltergeist Report.  Kurama as a child in the FUNimation dub is voiced by Candice Moore. In the Filipino dub of the anime he was voiced briefly by Rose Barin during the Artifact Recovery arc and during the Saint Beast arc and onwards, he was voiced by Jeremy Emmanuel Hoya.
Yoko Kurama is the name of the original, silver-haired fox demon. After he was wounded by being chased, he put his spirit into the newly born human baby, Shuichi Minamino. It is at this point, and later through aging, that Kurama's psyche is in control. A theme throughout the series is his acceptance as a human being & his balancing of the two personalities. He can switch between both bodies almost at will after the Dark Tournament saga. Even though he is commonly seen in his human form (Minamino), he is referred to as Kurama.