Jurassic World: Dominion Dominates Fandom Wikis - The Loop
Play Sound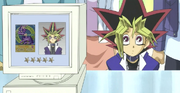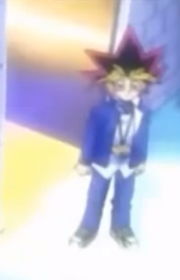 Yugi Muto, known as Yugi Mutou in the manga, is the main character and protagonist of the original Yu-Gi-Oh! series, along with the spirit of Yami Yugi. Yugi is kind-hearted, caring, selfless, understanding, considerate, and child-like. He is good at games, riddles, and puzzles, especially Duel Monsters.
Together with the spirit of Pharaoh Atem, he holds the title "King of Games" (King of Duelists in Japanese version), by winning the Duelist Kingdom, Battle City, Grand Championship and Battle City V2 (in Yu-Gi-Oh! GX).
Yugi possesses the three thousand-year-old (five thousand in the English dub) mystical Millennium Puzzle, which allows his body to bear host to the spirit/soul of the Puzzle, Yami Yugi. Yugi was initially unaware of his existence and control of Yugi's body, and partial or complete control of his mind, would involuntarily shift to Yami when Yugi himself or his best friends are in danger, or when Yugi is under emotional stress or mad.
He lives with his paternal grandfather, Solomon Muto, and his mother. In the manga, Yugi's father (Solomon's son) is living away from his family on business.
Yugi is part of a close-knit group of best friends: Joey Wheeler, Tristan Taylor and Téa Gardner as well as Ryo Bakura. Miho Nosaka is also one of Yugi's friends in the first series anime. Yugi's friends often cheer him on from the sidelines, and Joey has dueled at his side. Yugi has been friends with Téa since childhood and has a romantic crush on her. Téa has been shown to have romantic feelings for both Yugi and Yami Yugi.
Allies
Deck
Monsters
Normal Monsters
Battle Steer
Beaver Warrior
Blackland Fire Dragon
Curse of Dragon
Feral Imp
Gaia The Fierce Knight
Giant Soldier of Stone
Griffore
Horn Imp
Left Arm of the Forbidden One
Left Leg of the Forbidden One
Mammoth Graveyard
Right Arm of the Forbidden One
Right Leg of the Forbidden One
Rude Kaiser
Torike
Effect Monsters
Catapult Turtle
Dark Sage
Sangan
Time Wizard
Ritual Monsters
Fusion Monsters
Black Skull Dragon
Gaia the Dragon Champion
Magic Cards
Black Luster Ritual
Black Magic Ritual
Book of Secret Arts
Brain Control
Breath of Light
Burning Land
Dark Hole
De-Spell
Full Moon
Horn of the Unicorn
Living Arrow
Magical Hats
Makiu, the Magical Mist
Monster Reborn
Monster Recovery
Monster Replace
Multiply
Mystic Box
Polymerization
Soul Release
Swords of Revealing Light
The Eye of Truth
Traps
Mirror Force
Spellbinding Circle
Horn of Heaven
Opponents